About us
GAD's story doesn't end here – it's just begun.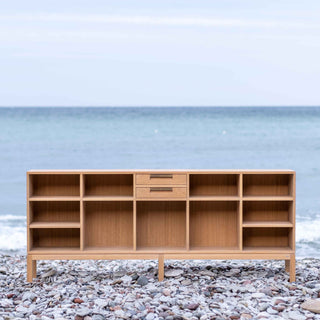 Furniture craftsmanship from Gotland
GAD was started in 1997, as a reaction to increasing mass production. Our founder Kristian Eriksson was a creative and artistic IT consultant, who was looking for what he usually calls "real furniture". Furniture of the highest quality, made by hand in solid natural materials.
When he couldn't find them, he decided to design and manufacture them himself. It was the start of a business that 25 years later is driven by the same passion for craftsmanship and materials that will last well into the future.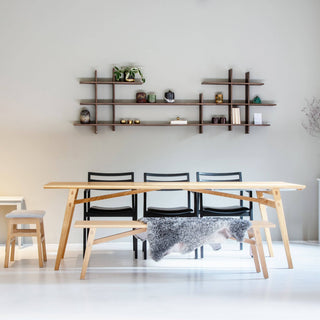 SUSTAINABLE CHOICES
Only Swedish production
All GAD's manufacturing has been done in Sweden since the start, mainly in our own carpentry in Hemse on Gotland, where we have around ten people working. Each piece of furniture is made to the customer's order and becomes a personal project that is numbered and signed by the one of us who is the responsible carpenter.
We work in local materials such as Gotland core pine, limestone and lambskin. We buy wood that is not available on Gotland from Sweden and Finland when it comes to birch, and we buy oak from the Baltic Sea region. We always choose as local a supplier as possible.
In Lönsboda, Scania, we buy the exclusive diabase from the Hägghultsquarry, a black and saturated stone that is in demand by artists and furniture manufacturers worldwide.
We also work in vegetable-tanned leather from Tärnsjö Garveri and Elmo, as well as wool from Klippan's wool factory. Our fittings, in steel and brass, are manufactured in Havdhem, which is just south of Hemse here on Gotland.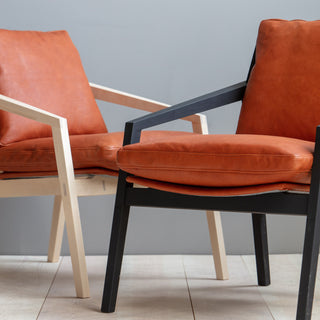 CRAFT AND MATERIALS IN FOCUS
Timeless Scandinavian design
Kristian Eriksson designs all GAD's furniture. He has a timeless and stylish design language that is based on a Scandinavian tradition. He also distinguishes himself in his way of emphasizing the beautiful solutions of fine carpentry, and the properties of natural materials.
In addition to being beautiful details, the fine carpentry solutions provide very robust and durable constructions. Joints with through tenons and dovetail countersinks are a big part of GAD's unique ID as a manufacturer of the highest level of craftsmanship.
The fact that we work with massive natural materials and natural surface treatments also gives the enormous advantage that the furniture can be easily maintained, looked after and renovated. If necessary even restored to new condition, several times over.
CHRISTIAN ERIKSSON
"I usually compare it to how it feels to enter an old, well-built house"
"You feel it immediately. This house, or this piece of furniture, is made in a real way, in real materials. Natural materials and good craftsmanship give a weight and a soul that the senses register and enjoy."

/Kristian Eriksson, founder and designer GAD